Orchard Brochure - 100 page publication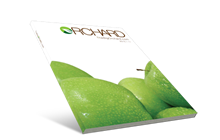 Specification
92 - 100 A4 pages
Integrated business card
Laminated & spot UV varnished cover
Double-sided full colour
Perfect bound 100% recycled silk paper
Profiled inside pocket for A4
2x complimentary insert sheets
Description
The brief was to create a very high quality publication which showcased the entire Orchard product range. Brand consisency was key and needed to run through all media types with this brochure being at it's heart.
The apples, newly designed logo and colour scheme had to resenate on every page with products not crammed together; enbracing the use of white space to draw focus toward the product images and text.
Design and layout of the artwork was all done in Adobe Indesign with the images prepared in Photoshop. The cutter profile for the inside pocket and the spot UV varnishing mask was produced with Illustrator and Indesign.