www.Planhorse.co.uk - Website Design & Build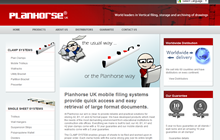 Link to Planhorse
Technologies
Jquery
AJAX
PHP
MySQL Database
HSBC CPI Integration (secure e-payment)
Description
Planhorse paper storage systems are a range of products all designed for paper filing in drawing offices or archives.
The 'what you see is what you get' nature of the product lent itself well to a full e-commerce website with integrated shopping basket and secure online payment.
HSBC CPI Integration
At Evil Monkey House, we can do this. If you try to do it yourself, take my advice and burn the CD and documents you get in the welcome pack, they are less than helpful (at least they were when I did in February 2011).